Twas the night before race day and all through the house not a creature was stirring except for this underwearless mouse.
For the last 10 months, I have slowly, with much grit, determination, and perseverance, molded myself into a runner. When my sister asked me to run a half marathon with her a year ago, I could not finish a 5K without walking most of it. This is not to say I wasn't physically fit, I exercised 4 or 5 days a week at boot camp and TRX classes with a little PiYo and yoga sprinkled into the mix. But I did not enjoy running and I did not have the strength or the lung capacity to go very far. 10 months ago, running was for other people and I did not aspire to be a member of their tribe.
On May 21st, I found myself, 10 months older, wiser, and stronger – a runner on the eve of her first half marathon. My sister and I were set to run the Capitola Half Marathon (Surfer's Path for those who run the full 26.2 miles) in a beach town that we knew and loved. My parents, husband, and the family dogs joined us at the beach house for a long weekend focused around the race. On Saturday, my sister and I drank a lot of water, rested, fueled properly and basically sat around while the rest of our family made posters to wave at us as we ran by the beach house at miles 6 and 7 and to greet us at the finish line.
My sister and I cooked a protein and veggie filled dinner with simple carbohydrates for easy digestion and enjoyed a glass of Napa Valley Merlot with the family overlooking the water. I was excited, nervous, prepared, fearful of reinjuring myself, ready to go, not sure if I could do it, wishing it was the next morning, wishing it was already over all at once. After dinner, we played Scrabble to pass the time and focus our attention on something other than the race the next morning. At 8:52 p.m. I announced, "Holy crap. You guys, I forgot to pack underwear."
And that, ladies and gentleman, is when I learned that Race Brain is real and it will get you. I knew I was wrapped up in a lot of conflicting emotions about the race, I had no idea these emotions had usurped my ability to act as a functional adult. I couldn't drive, because I'm small and one glass of wine is enough to put me over the line, so as a 31 year old woman, my father drove my car to Target so I could buy underwear. We sped through Capitola, fearful that Target closed at 9 p.m. There was one moment when tires actually screeched when my dad thought he missed the entrance to the Target parking lot. The good news, Target was open until 11 that night and they had approximately 4 pairs of size small underwear available for purchase. This beggar had no intention of being a chooser. I'm pretty sure one pair of underwear was made of swimsuit material.
Newly purchased underwear in the washing machine, mom assigned to sticking it in the dryer, I tucked myself into bed with my husband and demanded a soothing backrub to put me to sleep. It was less than 8 hours before I needed to get up, and I was doing my best not to freak out about proper sleep. Which is good, because I spent the rest of the night having terrible dreams about the race. I forgot my running shoes, there was a whole mile in the sand. Every dream centered on a scenario that would make it harder to run 13.1 miles.
At 5:17 a.m. my alarm went off, I shot out of bed, and I went into runner autopilot. I was in my groove. Early morning runs have been part of my life 4 days a week for the last 10 months. My clothes and supplies were stacked neatly in the bathroom in order to only minimally disturb my husband, my dad had coffee waiting for me in the kitchen, my pre-run small bowl of Multigrain Cheerios with dried cranberries and unsweetened almond milk was on the horizon. I suited up, fueled up, and 45 minutes before the race, hopped into my car with my parents and my sister. My mom took a lot of pictures of us before the race, just in case, she said. (Just in case she forgets what we were wearing and didn't know how to find us when we raced past the house, I later learned).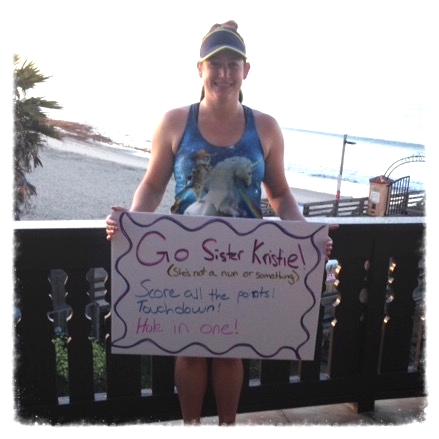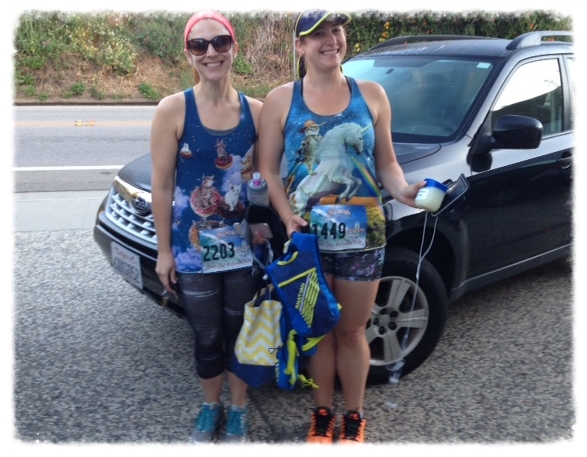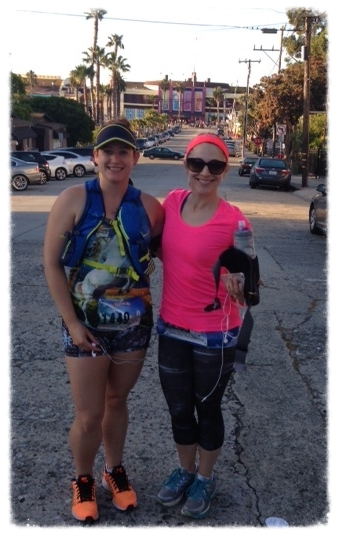 Santa Cruz is a laidback town and the start of this race was in direct alignment with their easy going way of life. People trickled in, there weren't any pacers, no announcements about knowing your own pace and placing yourself accordingly in the pack. There was hardly a discernible group of people waiting to speed through the start gates. My sister and I were in line for the bathrooms when we heard a horn, the pounding of feet, and realized the race had started with approximately zero fanfare.
We were off!!! And I was off too fast, my sister, Running Sherpa, Guardian, general Running Guru, yelled, "SLOW DOWN! This is a 9 minute mile. You need to back off." And with that, she ran off into the distance and I slowed down to my 10:30 pace.
To quote my sister and to paraphrase Buddy the Elf, "I love racing! Racing is my favorite!" It really is. The enthusiasm and momentum of 1,000 runners with the same goal is infectious. I find it impossible to be swept away with worry when you have the camaraderie of a sea of runners. The first six miles were a dream. The tendinitis and plantar fasciitis that had kept me off my feet for the last month never flared up. The sun was shining, the air was clear, the beaches and water were serene and empty, and because I'm slow and had started late, the pack around me wasn't too thick. I found a comfortable pace and in my head I rotated between the four race mantras I had assigned myself. "You do you, boo." "Look at you! You're amazing!" "I can and I will!" "I am f***ing confidence in f***ing motion!"
Around mile 6, I started feeling a bit of fatigue but was carried by the momentum of knowing I was about to run past the beach house and my husband and parents and I wanted to run strong and confident past them. I knew I was going to see Kristie looping back at any time and didn't want to disappoint her by walking when she was pushing so hard. My adorable dad with his adorable sign, my mom, inexplicably chatting on her cell phone at 8 a.m., and the unmistakable look of pride on my husband's face boosted my energy and my confidence. I shed my top layer and the sunglasses I accidentally wore to the start and kept on trucking.
"You do you, boo," became my primary mantra around mile 7. It was time to tune into my body and not concern myself with the other runners. I needed to adjust my pace, as I was running 10 minute miles for the first 6 miles and that is 45 seconds faster than my normal mile time. I was so impressed that my injuries hadn't flared up, that I wasn't paying much attention to my body and there were definitely some aches and pains that were beginning to voice their opinions.
Mile 8 was hard. The wheels fell off and I had to admit I was really really tired. The course was 75% rolling hills, 25% flat and I had ignored my running coach's advice to hill train. Not the best decision, in hindsight. I had planned to fuel with energy chews at miles 5 and 10. But in mile 8, I was starting to feel the loopy sensation of floating as I ran. It was time for more calories and more water. But now I had to pee.
The thing about having to pee was that it gave me something to fixate on until I found a bathroom. Rather than feeling the pain in my hips and knees or feeling the exhaustion in my lungs, rather than looping a mantra or singing along to the music on my phone, I thought about asking strangers hanging outside of their homes on the race course if I could use their bathroom. It was great, whatever keeps me distracted enough to keep moving without realizing it works for me.
It was around mile 11 that there was an aid station and port-a-potty. (I don't like how I've adapted to using these disgusting cesspools. Thanks a lot, racing.) I asked a stranger to hold my sweaty running belt so I didn't have to take my headphones or water bottle into the nasty poo hut. When I got out, he very graciously handed me my things without grimacing and wished me a great final 2 miles. As I was getting back up to speed, I passed a woman giving herself a very loud pep talk. I looked at her and said, "You've got this. You made it too far to worry about quitting."
The combination of a real break without forward motion at the bathroom, the kindness of a stranger, and being able to share some of that same kindness with another stranger was what I needed to reset my mind. Without a doubt, my body was done. It felt nearly impossible to pick up my feet and it was clear to me that this is when the mind really matters. I heard my trainer's voice clearly in my head, "You are Core Fit. YOU DON'T QUIT! You take a break and you COME BACK STRONGER!" It was time to tap into that grit and just keep going. Thank god, it was right about this time that the Boardwalk became visible on the horizon and I could channel those "Almost there, HECK YES!" feels.
My GPS tracker announced that I had run 12 miles. 1.1 mile to go. 11 more minutes on my feet and I was done. I can run a mile any day, any time. NSYNC's "Bye Bye Bye" started on my running mix, and the perfection of the message was almost too much. I turned up the volume and did the arm motions of the dance to the song as I ran towards the Boardwalk. I sang out loud while wishing my sister would come back for me and run me in. I didn't know that I could finish this race without her.
And there she was!
"You're so close to the finish line. It's just up this road and to the left. When you get there, you'll see Kevin and mom and dad. You can do this," she assured me. She matched my pace for a short while and then I saw one last hill up ahead I nearly burst into tears.
"Do we have to run up that hill? How much further?"
"No, you're turning left just before the hill starts to climb. You are almost there. You've got this."
Then the jerk increased her speed and started yelling at me to pick my knees up. So basically, I spent the last quarter of a mile chasing my sister as she berated me about my slow, sad shuffle.
And then…the finish line appeared. The last time I felt this much sheer joy was on my wedding day. I wanted to run down the aisle to Kevin and jump in his arms. I felt the same as I saw the finish gate. A huge smile broke across my face and I felt jubilant. WE DID IT!
My family was there at the finish line, signs in hand. This time my mom was not chatting on her cell phone and was in full paparazzi mode. She managed to capture all of the finish line emotions that ran across my face in rapid succession.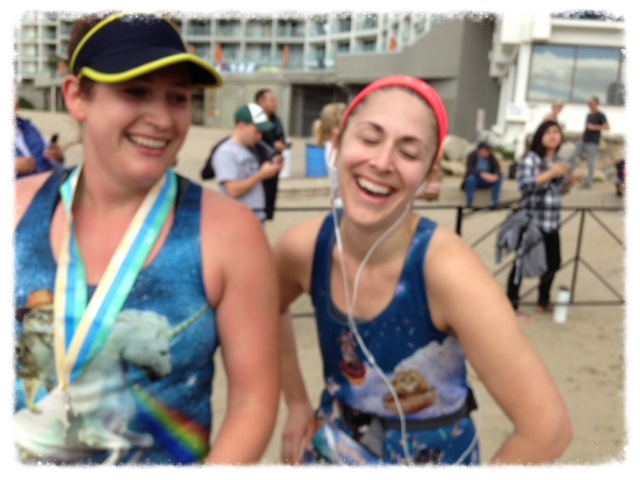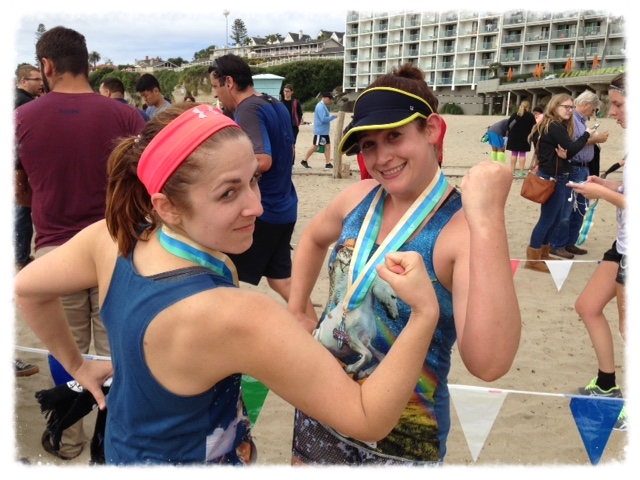 For the next 48 hours my stomach felt weird, I had no appetite (though I was delighted to eat anything that crossed my path because I had just run 13 point freaking 1 miles), and my anxiety was on overdrive. I was exhausted, but I couldn't sleep. I was restless and uncomfortable. I spent a lot of time stretching, foam rolling, and sitting on a lacrosse ball, but it was hard to find relief. Also, Race Brain continues for a few days after the race. The strangest side effect of completing 13.1 miles was a complete loss of mindfulness. It was hard for me to go easy on myself, as I had worked so hard to achieve mindfulness over the last year.
But what mattered was this, I set a goal and I accomplished it. It wasn't easy. It took a tremendous amount of work. And it changed my life in so many different ways. I am filled with gratitude that my sister asked me to run a half marathon with her. It was a gift that I will truly always be thankful for.